Hotels near Franco Manca, Covent Garden
FIND YOUR PERFECT LONDON HOTEL
Hotels near
Franco Manca, Covent Garden
All central London hotels
Room 1
Okay
Maximum 4 to a room.
+ Add another room
Most popular hotels near Franco Manca, Covent Garden
Find other hotels near Franco Manca, Covent Garden
Hotels near Franco Manca, Covent Garden
Franco Manca, Covent Garden

Fast becoming London's favourite pizza restaurant, new branches of Franco Manca are popping up all over the place and this Covent Garden branch is their prettiest location yet with two levels and exposed brickwork inside and beautiful arches and hanging baskets on the exterior. Found on Maiden Lane, which is also home to Polpo and the Big Easy, the branch serves the distinct brand of pizzas that are renowned for their delicious slow-rise sourdough crusts and even more appealing prices. The simple menu consists of six pizzas made with ingredients like fresh mozzarella, made daily on Lloyd Green's organic farm in Somerset; tomatoes from small co-op of organic producers in Italy; and ham and sausages made in partnership with David Tomlin from the Rare Bread Survival Trust. The drinks menu is equally simple with the choice between one lager, one ale, organic wines, traditional prosecco and a range of soft drinks. Here it's all about quality and we'd be hard pushed to stray anywhere else for our pizza fix.
Images of, and near, Franco Manca, Covent Garden
Franco Manca, Covent Garden Franco Manca, Covent Garden - (c) Franco Manca & Alessandra Spairani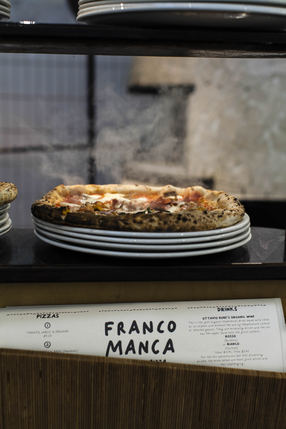 Customer Service - Speak to a London hotel expert

Email
Email a London Expert
Send email

Live Chat
Advisors available now
Chat to a London Expert
Live chat
Speak to a
London Hotel Expert

Telephone
From UK:
020 7437 4370
Free callback service
If you prefer, we can call you back for free:
Call me back

Top rated hotels near Franco Manca, Covent Garden
Previous customers have given the highest customer satisfaction score to these five hotels near to Franco Manca, Covent Garden:
6 minutes walk away
Double room from £400
7 minutes walk away
Double room from £139
6 minutes walk away
Double room from £123
9 minutes walk away
Double room from £92
8 minutes walk away
Double room from £138
Nearest hotels to Franco Manca, Covent Garden
There are 20 recommended places to stay within a 15 minutes walk from Franco Manca, Covent Garden:
Strand Palace Hotel London ( 2 minutes)
St Martins Lane, A Morgans Original ( 3 minutes)
The Waldorf Hilton Hotel London ( 4 minutes)
Amba Hotel Charing Cross ( 4 minutes)
ME London ( 4 minutes)
Radisson Blu Edwardian Mercer Street ( 6 minutes)
Corinthia Hotel London ( 6 minutes)
Radisson Blu Edwardian Hampshire Hotel ( 6 minutes)
The Trafalgar St. James London, Curio Collection by Hilton ( 6 minutes)
Club Quarters Trafalgar Square ( 6 minutes)
The Grand at Trafalgar Square ( 6 minutes)
Thistle Trafalgar Square, The Royal Trafalgar ( 6 minutes)
The Royal Horseguards - A Guoman Hotel ( 7 minutes)
Every Hotel Piccadilly ( 7 minutes)
Club Quarters Lincoln's Inn Fields ( 8 minutes)
Thistle Holborn, The Kingsley ( 9 minutes)
Radisson Blu Edwardian Bloomsbury Street Hotel ( 9 minutes)
Rosewood London ( 10 minutes)
Radisson Blu Edwardian Kenilworth Hotel ( 10 minutes)
The Nadler Soho Hotel ( 11 minutes)

Connect live to hotels' reservation system

Lowest rates available anywhere

Bookings made instantly with the hotel

Receive hotel's own reservation number

Pay the hotel directly

Our service is 100% FREE

LondonTown.com exclusive free extras

Hotel experts with 15 years experience

More about our customer service team