Hotels near Shoryu Ramen Covent Garden
FIND YOUR PERFECT LONDON HOTEL
Hotels near
Shoryu Ramen Covent Garden
All central London hotels
Room 1
Okay
Maximum 4 to a room.
+ Add another room
Most popular hotels near Shoryu Ramen Covent Garden
Find other hotels near Shoryu Ramen Covent Garden
Hotels near Shoryu Ramen Covent Garden
Shoryu Ramen Covent Garden

A spin off from the Japan Centre, one of the largest Japanese shops in London, this mini chain of ramen restaurants concentrates on Hakata tonkotsu ramen - the noodles found in the Hakata district of Fukuoka city on the southern island of Kyushu, Japan. Specialising in authentic Hakata cuisine, Shoryu Ramen in Covent Garden offers their signature Hakata tonkotsu ramen, Shoryu buns - handmade steamed buns filled with delicious things like barbeque pork belly and grilled halloumi - and Gekkeikan Royal Warrant sake. They even have a sake sommelier to help you through the Japanese inspired cocktails while Japanese beers like Kirin, Asahi and Musashino Craft Beer offer a thirst quenching alternative. Interiors by Blenheim design include a relaxed bar area and an intimate dining area, decorated with white tiles and brick work creating a light, relaxed atmosphere. This Covent Garden restaurant, launched in summer 2016, is the fifth Shoryu Ramen restaurant joining sister sites in Regent Street, Broadgate Circle, Soho and Kingly Court, as well as Shoryu Go, a tonkotsu ramen take-out bar on Air Street.
Images of, and near, Shoryu Ramen Covent Garden
Shoryu Ramen Covent Garden Shoryu Ramen Covent Garden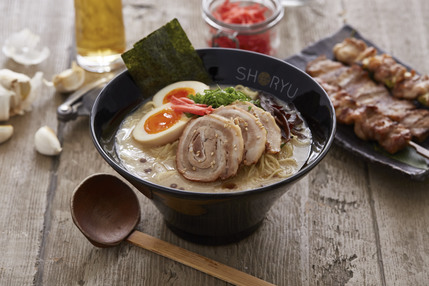 Customer Service - Speak to a London hotel expert

Email
Email a London Expert
Send email

Live Chat
Advisors available now
Chat to a London Expert
Live chat
Speak to a
London Hotel Expert

Telephone
From UK:
020 7437 4370
Free callback service
If you prefer, we can call you back for free:
Call me back

Top rated hotels near Shoryu Ramen Covent Garden
Previous customers have given the highest customer satisfaction score to these five hotels near to Shoryu Ramen Covent Garden:
7 minutes walk away
Double room from £59
4 minutes walk away
Double room from £92
9 minutes walk away
Double room from £147
7 minutes walk away
Double room from £69
7 minutes walk away
Double room from £185
Nearest hotels to Shoryu Ramen Covent Garden
There are 20 recommended places to stay within a 15 minutes walk from Shoryu Ramen Covent Garden:
Club Quarters Lincoln's Inn Fields ( 3 minutes)
The Waldorf Hilton Hotel London ( 4 minutes)
Thistle Holborn, The Kingsley ( 4 minutes)
Radisson Blu Edwardian Mercer Street ( 5 minutes)
Rosewood London ( 5 minutes)
ME London ( 5 minutes)
Strand Palace Hotel London ( 6 minutes)
Radisson Blu Edwardian Bloomsbury Street Hotel ( 6 minutes)
The Buckingham London ( 6 minutes)
Radisson Blu Edwardian Kenilworth Hotel ( 6 minutes)
DoubleTree by Hilton London - West End ( 7 minutes)
Grange Portland Hotel London ( 7 minutes)
Grange Clarendon Hotel ( 7 minutes)
The Beauchamp Hotel London ( 7 minutes)
St Martins Lane, A Morgans Original ( 7 minutes)
The Montague on the Gardens ( 7 minutes)
Grange White Hall Hotel London ( 8 minutes)
Grange Blooms Hotel London ( 8 minutes)
Bloomsbury Park Hotel London ( 8 minutes)
Amba Hotel Charing Cross ( 9 minutes)

Connect live to hotels' reservation system

Lowest rates available anywhere

Bookings made instantly with the hotel

Receive hotel's own reservation number

Pay the hotel directly

Our service is 100% FREE

LondonTown.com exclusive free extras

Hotel experts with 15 years experience

More about our customer service team