Hotels near Secret Cinema: Casino Royale
FIND YOUR PERFECT LONDON HOTEL
All central London hotels
Room 1
Okay
Maximum 4 to a room.
+ Add another room
Most popular hotels near Secret Cinema: Casino Royale
Find other hotels near Secret Cinema: Casino Royale
Secret Cinema: Casino Royale

This spring and summer,
Secret Cinema
goes undercover to channel Bond, James Bond when it presents a fully immersive show of the critically-acclaimed 007 film Casino Royale. Taking the 2006 version, directed by Martin Campbell and starring Daniel Craig as James Bond, the show transforms a secret London location into the glamorous and action-packed world of the iconic British spy. Blurring the lines between fiction and reality, the experience recreates scenes and locations from the film. You, the audience, will be required to get into character and you'll be assigned to either Q Branch or M Branch. Prior to your mission, you will receive an alias, dress code and training suggestions to help you prepare for a night of high stakes, sophistication and deception. If previous Secret Cinema productions are anything to go by, you'll feel like you're on the set of the film... and what a fantastic film to be dropped into.
Images of, and near, Secret Cinema: Casino Royale
Secret Cinema: Casino Royale Secret Cinema: Casino Royale - Secret Cinema Presents Casino Royale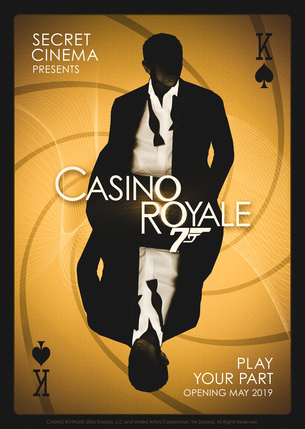 Customer Service - Speak to a London hotel expert

Email
Email a London Expert
Send email

Live Chat
Advisors available now
Chat to a London Expert
Live chat
Speak to a
London Hotel Expert

Telephone
From UK:
020 7437 4370
Free callback service
If you prefer, we can call you back for free:
Call me back


Connect live to hotels' reservation system

Lowest rates available anywhere

Bookings made instantly with the hotel

Receive hotel's own reservation number

Pay the hotel directly

Our service is 100% FREE

LondonTown.com exclusive free extras

Hotel experts with 15 years experience

More about our customer service team