Hotels near Kettner's Champagne Bar
FIND YOUR PERFECT LONDON HOTEL
Hotels near
Kettner's Champagne Bar
All central London hotels
Room 1
Okay
Maximum 4 to a room.
+ Add another room
Most popular hotels near Kettner's Champagne Bar
The Nadler Soho Hotel
London
>
Hotels
>
Mid-Range Chain Hotel
from £115

23% off
10 Carlisle Street, W1D 3BR |

4 minutes walk from Kettner's Champagne Bar




Promising 'the bill you pay at check-out is what you thought you'd pay when you checked in', the Nadler Hotels specialise in stylish, affordable accommodation. The

More
Every Hotel Piccadilly
London
>
Hotels
>
Mid-Range Chain Hotel
from £50

31% off
Coventry Street, W1D 6BZ |

4 minutes walk from Kettner's Champagne Bar




Located right next to Leicester Square, in the heart of London's West End, the Every Hotel Piccadilly is the perfect hotel for those wanting to enjoy

More
Find other hotels near Kettner's Champagne Bar
Hotels near Kettner's Champagne Bar
Kettner's Champagne Bar

Celebrate in style at this elegant yet wholly unpretentious Baroque champagne bar in the heart of Soho. Dimly-lit, effortlessly elegant and with gleaming Mahogany surfaces, Kettner's has long been synonymous with champagne drinking. With more than 100 producers on its list - including iconic brands, small labels and one English fizz producer - this old-time establishment will offer you the chance to try rare vintages and champagne cocktails in fine surroundings. Bag one of the deep, warm, brown leather sofas, prop yourself up with a velvet cushion or hide away in one of the bookable private nooks, perfect for a romantic, intimate tete-a-tete. If you're feeling peckish the sandwich menu's on hand to provide sustenance for more champagne quaffing; there's something inherently refreshing about washing a hearty ham sandwich down with a slurp of top notch fizzy stuff. As you sit underneath the gleaming chandeliers listening to the strains of live jazz on a grand piano filter in from the room next door it's hard to imagine ever getting the impetus to move. Originally a grand hotel, Kettner's also boasts a modern French restaurant and a club-like space, The Apartment Bar, which is open daily as a bar but can also be hired for events, holding up to 100 guests for a drinks reception or 70 for a seated dinner.
Images of, and near, Kettner's Champagne Bar
Kettner's Champagne Bar Kettner's Champagne Bar - Kettner's Townhouse Champagne Bar, photo copyright Soho House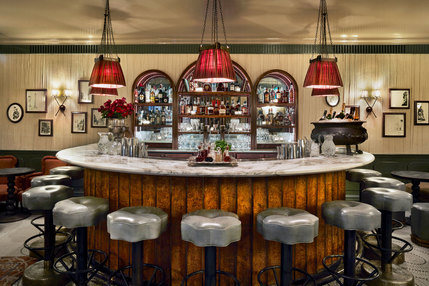 Customer Service - Speak to a London hotel expert

Email
Email a London Expert
Send email

Live Chat
Advisors available now
Chat to a London Expert
Live chat
Speak to a
London Hotel Expert

Telephone
From UK:
020 7437 4370
Free callback service
If you prefer, we can call you back for free:
Call me back

Top rated hotels near Kettner's Champagne Bar
Previous customers have given the highest customer satisfaction score to these five hotels near to Kettner's Champagne Bar:
6 minutes walk away
Double room from £3000
9 minutes walk away
Double room from £372
8 minutes walk away
Double room from £0
4 minutes walk away
Double room from £130
8 minutes walk away
Double room from £79
Nearest hotels to Kettner's Champagne Bar
There are 20 recommended places to stay within a 15 minutes walk from Kettner's Champagne Bar:
Radisson Blu Edwardian Mercer Street ( 3 minutes)
The Nadler Soho Hotel ( 4 minutes)
Every Hotel Piccadilly ( 4 minutes)
Radisson Blu Edwardian Hampshire Hotel ( 4 minutes)
St Martins Lane, A Morgans Original ( 5 minutes)
Thistle Trafalgar Square, The Royal Trafalgar ( 5 minutes)
Radisson Blu Edwardian Bloomsbury Street Hotel ( 6 minutes)
Cafe Royal Hotel ( 6 minutes)
Radisson Blu Edwardian Kenilworth Hotel ( 7 minutes)
Le Meridien Piccadilly ( 7 minutes)
The Courthouse Hotel ( 8 minutes)
My Bloomsbury London ( 8 minutes)
Sanderson, A Morgans Hotel ( 8 minutes)
Amba Hotel Charing Cross ( 8 minutes)
Thistle Holborn, The Kingsley ( 8 minutes)
The Rathbone Hotel London ( 8 minutes)
Club Quarters Trafalgar Square ( 9 minutes)
The Grand at Trafalgar Square ( 9 minutes)
The Trafalgar St. James London, Curio Collection by Hilton ( 9 minutes)
Strand Palace Hotel London ( 9 minutes)

Connect live to hotels' reservation system

Lowest rates available anywhere

Bookings made instantly with the hotel

Receive hotel's own reservation number

Pay the hotel directly

Our service is 100% FREE

LondonTown.com exclusive free extras

Hotel experts with 15 years experience

More about our customer service team