Hotels near Gina Conway Aveda Lifestyle Salon
FIND YOUR PERFECT LONDON HOTEL
Hotels near
Gina Conway Aveda Lifestyle Salon
All central London hotels
Room 1
Okay
Maximum 4 to a room.
+ Add another room
Most popular hotels near Gina Conway Aveda Lifestyle Salon
Hilton London Hyde Park Hotel
London
>
Hotels
>
Mid-Range Chain Hotel
from £92

38% off
129 Bayswater Road, W2 4RJ |

8 minutes walk from Gina Conway Aveda Lifestyle Salon




Housed in a historical listed building overlooking Hyde Park, the Hilton London Hyde Park is an attractive redbrick building that still has many of its period

More
Find other hotels near Gina Conway Aveda Lifestyle Salon
Hotels near Gina Conway Aveda Lifestyle Salon
Gina Conway Aveda Lifestyle Salon

This excellent hair and beauty clinic on the Westbourne Grove Road offers the full range of cutting, styling and beauty treatments. Gina Conway is an American born hair and beauty specialist who has always worked at the highest levels and her first solo venture won Time Out awards in the 2003 and 2004 guides. You can get anything here from a custom designer haircut and style to a 6 hour 'Decadence' aromatherapy facial and massage package, all in a friendly, relaxed atmosphere. Despite Gina's pedigree and list of celebrity clients, this is an entirely welcoming and unpretentious shop. Gina Conway is also one of the best places in London to get your hair coloured, as the salon employs a team of colour specialists using Aveda's 97 per cent naturally derived hair colour. If you've never pampered yourself in style before, this salon has an excellent range of treatments and an unintimidating style. There are also many longstanding customers who swear by the place for their weekly top-ups. Recommended.
Images of, and near, Gina Conway Aveda Lifestyle Salon
Gina Conway Aveda Lifestyle Salon Gina Conway Aveda Lifestyle Salon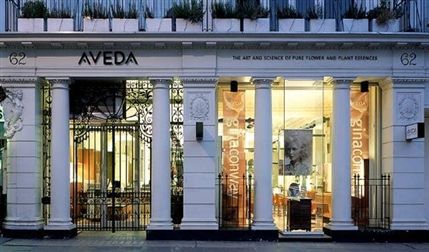 Customer Service - Speak to a London hotel expert

Email
Email a London Expert
Send email

Live Chat
Advisors available now
Chat to a London Expert
Live chat
Speak to a
London Hotel Expert

Telephone
From UK:
020 7437 4370
Free callback service
If you prefer, we can call you back for free:
Call me back

Top rated hotels near Gina Conway Aveda Lifestyle Salon
Previous customers have given the highest customer satisfaction score to these five hotels near to Gina Conway Aveda Lifestyle Salon:
9 minutes walk away
Double room from £94
7 minutes walk away
Double room from £116
9 minutes walk away
Double room from £139
7 minutes walk away
Double room from £134
8 minutes walk away
Double room from £81
Nearest hotels to Gina Conway Aveda Lifestyle Salon
There are 12 recommended places to stay within a 15 minutes walk from Gina Conway Aveda Lifestyle Salon:
La Suite West ( 6 minutes)
Berjaya Eden Park London Hotel ( 6 minutes)
DoubleTree by Hilton London Hyde Park ( 7 minutes)
Blakemore Hyde Park Hotel ( 7 minutes)
Hilton London Hyde Park Hotel ( 8 minutes)
The Caesar Hotel London ( 8 minutes)
Thistle Kensington Gardens ( 9 minutes)
The Abbey Court Notting Hill ( 9 minutes)
Lancaster Gate Hotel London ( 10 minutes)
Thistle Hyde Park Hotel London ( 11 minutes)
The Royal Park Hotel London ( 13 minutes)
The Colonnade Hotel London ( 13 minutes)

Connect live to hotels' reservation system

Lowest rates available anywhere

Bookings made instantly with the hotel

Receive hotel's own reservation number

Pay the hotel directly

Our service is 100% FREE

LondonTown.com exclusive free extras

Hotel experts with 15 years experience

More about our customer service team