Hotels near Michael Landy: Saints Alive
Hotels near
Michael Landy: Saints Alive
All central London hotels
Check-in
Check-out
Guests
1 ADULT
2 ADULTS
1 ADULT, 1 CHILD (2-12 Years)
2 ADULTS, 1 CHILD (2-12 Years)
2 ADULTS, 2 CHILDREN (2-12 Years)
3 ADULTS
4 ADULTS
OTHER CONFIGURATION:

+ another room

Hotels near Michael Landy: Saints Alive
Michael Landy: Saints Alive

2013 Associate Artist in residence at the
National Gallery
,
Michael Landy
, is the subject of a free exhibition in the gallery's Sunley Room where seven kinetic sculptures go on display from May 2013. In
Saints Alive
Landy's large-scale works, consisting of fragments of National Gallery paintings cast in three dimensions, represent a contemporary view of the lives of the saints. Landy scours car boot sales and flea markets to create his works, recycling rubbish to create something new. One of the YBAs (Young British Artists) of the 1990s, he is best known for his 2001 installation, 'Break Down', where he catalogued and then destroyed all of his possessions.
Images of, and near, Michael Landy: Saints Alive
Michael Landy: Saints Alive Michael Landy: Saints Alive - Michael Landy in his studio at the National Gallery, 2012 © The National Gallery, London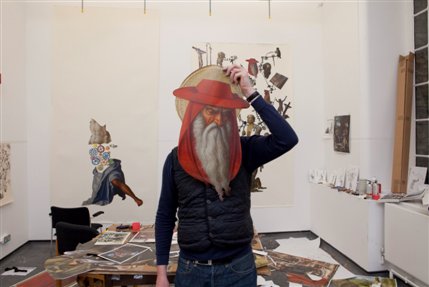 Customer Service - Speak to a London hotel expert

Telephone
From United States:
011 44 207 437 4370
8am to 11pm
Free callback service:
We can call you back

Email
Email a London Expert
Send email

Live Chat
Advisors available now
Chat to a London Expert
Live chat
Speak to a
London Hotel Expert

Telephone
From UK:
020 7437 4370
Free callback service
If you prefer, we can call you back for free:
Call me back

Top rated hotels near Michael Landy: Saints Alive
Previous customers have given the highest customer satisfaction score to these five hotels near to Michael Landy: Saints Alive:
4 minutes walk away
Double room from £565
7 minutes walk away
Double room from £2408
4 minutes walk away
Double room from £140
2 minutes walk away
Double room from £189
9 minutes walk away
Double room from £113
Nearest hotels to Michael Landy: Saints Alive
There are 20 recommended places to stay within a 15 minutes walk from Michael Landy: Saints Alive:
Radisson Blu Edwardian Hampshire Hotel ( 2 minutes)
Thistle Trafalgar Square, The Royal Trafalgar ( 2 minutes)
St Martins Lane, A Morgans Original ( 2 minutes)
The Grand at Trafalgar Square ( 3 minutes)
Club Quarters Trafalgar Square ( 3 minutes)
Amba Hotel Charing Cross ( 3 minutes)
The Trafalgar Hotel London ( 3 minutes)
Citadines Trafalgar Square Apart-Hotel ( 3 minutes)
Every Hotel Piccadilly ( 4 minutes)
Corinthia Hotel London ( 4 minutes)
The Shaftesbury Premier London Piccadilly ( 5 minutes)
The Royal Horseguards - A Guoman Hotel ( 6 minutes)
Strand Palace Hotel London ( 6 minutes)
Radisson Blu Edwardian Mercer Street ( 7 minutes)
Cafe Royal Hotel ( 7 minutes)
Le Meridien Piccadilly ( 7 minutes)
The Waldorf Hilton Hotel London ( 8 minutes)
ME London ( 9 minutes)
Cavendish London Hotel ( 9 minutes)
Kingsway Hall Hotel London ( 10 minutes)

Connect live to hotels' reservation system

Lowest rates available anywhere

Bookings made instantly with the hotel

Receive hotel's own reservation number

Pay the hotel directly

Our service is 100% FREE

LondonTown.com exclusive free extras

Hotel experts with 15 years experience

More about our customer service team