Hotels near Aston's Bar and Restaurant
FIND YOUR PERFECT LONDON HOTEL
Hotels near
Aston's Bar and Restaurant
All central London hotels
Room 1
Okay
Maximum 4 to a room.
+ Add another room
Most popular hotels near Aston's Bar and Restaurant
TheWesley Hotel London
London
>
Hotels
>
Mid-Range Chain Hotel
from £117

38% off
81-103 Euston Street, NW1 2EZ |

4 minutes walk from Aston's Bar and Restaurant




This 4 star independent hotel located in Euston, prides itself in being the first award winning Ethical Hotel in the UK. The Standard Rooms, Superior

More
Find other hotels near Aston's Bar and Restaurant
Hotels near Aston's Bar and Restaurant
Aston's Bar and Restaurant

The Radisson Blu Aston Bar and Restaurant is named after the Aston Martin racers who adopted it as a club back in the thirties. It still retains some of its classic style, along with modern colourful touches and a comfortable unpretentious atmosphere. The Aston is decorated with purple velvet armchairs, bright modern art and the largest pewter bar in London. It serves up great seasonal British cooking, think big sizzling burgers, hearty fish pies and fresh strawberry trifles. The menu samples produce from around the UK with grilled Irish rib eye steaks, Yorkshire pork chops and Scottish organic salmon. There is also a special menu just for kids including healthy options like rainbow salads and mini fish & chips. The service matches the high standard you would expect from a Radisson restaurant, making it popular with both locals and visitors.
Images of, and near, Aston's Bar and Restaurant
Aston's Bar and Restaurant Aston's Bar and Restaurant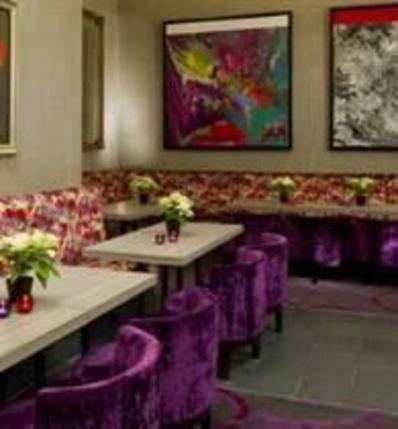 Customer Service - Speak to a London hotel expert

Email
Email a London Expert
Send email

Live Chat
Advisors available now
Chat to a London Expert
Live chat
Speak to a
London Hotel Expert

Telephone
From UK:
020 7437 4370
Free callback service
If you prefer, we can call you back for free:
Call me back

Top rated hotels near Aston's Bar and Restaurant
Previous customers have given the highest customer satisfaction score to these five hotels near to Aston's Bar and Restaurant:
7 minutes walk away
Double room from £106
6 minutes walk away
Double room from £91
1 minutes walk away
Double room from £93
5 minutes walk away
Double room from £80
9 minutes walk away
Double room from £0
Nearest hotels to Aston's Bar and Restaurant
There are 20 recommended places to stay within a 15 minutes walk from Aston's Bar and Restaurant:
Radisson Blu Edwardian Grafton Hotel ( 1 minutes)
TheWesley Hotel London ( 4 minutes)
Holiday Inn London Regent's Park ( 4 minutes)
Grange Fitzrovia Hotel London ( 5 minutes)
ibis London Euston St Pancras ( 6 minutes)
Regency House Hotel ( 6 minutes)
Grange Langham Court Hotel ( 7 minutes)
Hilton London Euston Hotel ( 7 minutes)
The Academy Hotel London ( 7 minutes)
The Rathbone Hotel London ( 7 minutes)
My Bloomsbury London ( 9 minutes)
Sanderson, A Morgans Hotel ( 9 minutes)
Langham Hotel London ( 10 minutes)
Holiday Inn London Bloomsbury ( 11 minutes)
Grange White Hall Hotel London ( 11 minutes)
Grange Blooms Hotel London ( 11 minutes)
Radisson Blu Edwardian Kenilworth Hotel ( 12 minutes)
The Montague on the Gardens ( 12 minutes)
Grange Portland Hotel London ( 12 minutes)
Radisson Blu Edwardian Bloomsbury Street Hotel ( 12 minutes)

Connect live to hotels' reservation system

Lowest rates available anywhere

Bookings made instantly with the hotel

Receive hotel's own reservation number

Pay the hotel directly

Our service is 100% FREE

LondonTown.com exclusive free extras

Hotel experts with 15 years experience

More about our customer service team