Hotels near Café Rouge - Irving Street
FIND YOUR PERFECT LONDON HOTEL
Hotels near
Café Rouge - Irving Street
All central London hotels
Room 1
Okay
Maximum 4 to a room.
+ Add another room
Most popular hotels near Café Rouge - Irving Street
Every Hotel Piccadilly
London
>
Hotels
>
Mid-Range Chain Hotel
from £50

28% off
Coventry Street, W1D 6BZ |

1 minute walk from Café Rouge - Irving Street




Located right next to Leicester Square, in the heart of London's West End, the Every Hotel Piccadilly is the perfect hotel for those wanting to enjoy

More
Find other hotels near Café Rouge - Irving Street
Hotels near Café Rouge - Irving Street
Café Rouge - Irving Street

With a combination of delicious food, great wines and a real ambience, Café Rouge has embodied the style and je ne sais quoi of French dining since it opened way back in 1989.
Now with over 90 sites across the country it's just the place to mull over the morning papers with a cafe au lait and a croissant, pop in for a spot of lunch, share a post-work drink or relax over an evening meal.
The menu covers a range of French classics from croques and baguettes, ideal for a quick and easy snack, to more substantial fare such as steak frites and boeuf bourguignon. Likewise, the wines are predominately French; many made by lesser known producers, and provide the perfect accompaniment to the food on offer.
No hassle, no rush, no skinny- decaff-double-shot-to-go, just a vibrant atmosphere that moves with your moods throughout the day.
Images of, and near, Café Rouge - Irving Street
Café Rouge - Irving Street CafĂ© Rouge - Irving Street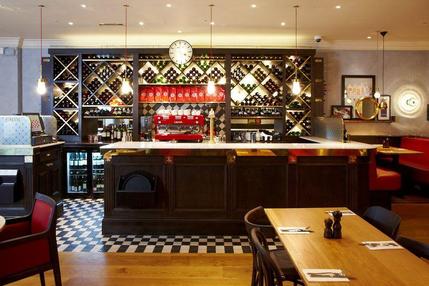 Customer Service - Speak to a London hotel expert

Email
Email a London Expert
Send email

Live Chat
Advisors available now
Chat to a London Expert
Live chat
Speak to a
London Hotel Expert

Telephone
From UK:
020 7437 4370
Free callback service
If you prefer, we can call you back for free:
Call me back

Top rated hotels near Café Rouge - Irving Street
Previous customers have given the highest customer satisfaction score to these five hotels near to Café Rouge - Irving Street:
7 minutes walk away
Double room from £395
5 minutes walk away
Double room from £435
1 minutes walk away
Double room from £222
2 minutes walk away
Double room from £193
5 minutes walk away
Double room from £237
Nearest hotels to Café Rouge - Irving Street
There are 20 recommended places to stay within a 15 minutes walk from Café Rouge - Irving Street:
Radisson Blu Edwardian Hampshire Hotel ( 1 minutes)
Every Hotel Piccadilly ( 1 minutes)
Thistle Trafalgar Square, The Royal Trafalgar ( 2 minutes)
St Martins Lane, A Morgans Original ( 3 minutes)
The Grand at Trafalgar Square ( 5 minutes)
Club Quarters Trafalgar Square ( 5 minutes)
The Trafalgar St. James London, Curio Collection by Hilton ( 5 minutes)
Amba Hotel Charing Cross ( 5 minutes)
Cafe Royal Hotel ( 5 minutes)
Le Meridien Piccadilly ( 6 minutes)
Radisson Blu Edwardian Mercer Street ( 6 minutes)
The Nadler Soho Hotel ( 7 minutes)
Corinthia Hotel London ( 7 minutes)
Cavendish London Hotel ( 7 minutes)
Strand Palace Hotel London ( 8 minutes)
The Royal Horseguards - A Guoman Hotel ( 8 minutes)
The Waldorf Hilton Hotel London ( 9 minutes)
Radisson Blu Edwardian Bloomsbury Street Hotel ( 10 minutes)
The Courthouse Hotel ( 10 minutes)
ME London ( 10 minutes)

Connect live to hotels' reservation system

Lowest rates available anywhere

Bookings made instantly with the hotel

Receive hotel's own reservation number

Pay the hotel directly

Our service is 100% FREE

LondonTown.com exclusive free extras

Hotel experts with 15 years experience

More about our customer service team